Our office recently filed its 2018 Annual Report with City Council. It is available on our website: www.ombudsmandemontreal.com.
The Report explains our mandate and describes our main activities for the year. In 2018, our office handled 1,890 files, launched 175 new inquiries and pursued the 85 inquiries already underway at the start of the year.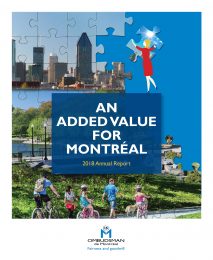 Our 2018 Annual Report also includes examples of files which attest once again to the important impact our interventions can have on citizens.
Thoroughness and Fairness at the heart of our interventions
Our core mandate is to process complaints from people who feel aggrieved as a result of a decision, an act, a recommendation or an omission by the City or a related organization. We can also launch self-motion inquiries. Moroever, our office offers the only recourse available to ensure compliance with the commitments contained in the Montréal Charter of Rights and Responsibilities.
The OdM is a neutral, apolitical and impartial entity. Thoroughness and transparency guide all its actions. Our office allows citizens to voice their concerns, in a respectful and efficient context, which boosts their confidence towards the municipal administration. We also make citizens more aware of the challenges and constraints linked to the management of a city.
Our interventions make it possible to fix errors, improve procedures and ensure the fairness of municipal decisions: this strengthens the overall quality of municipal services.  More and more inquiries lead to results having a financial impact on some citizens. Moreover, our comments on projects can also contribute positively to ongoing deliberations and lead to long-term changes.
Testimonials and Positive feed-backs
 Seeking the help of the OdM is easy and free of charge. Plaintiffs are listened to with an attentive ear: the OdM approach is always empathetic and caring. The object of the complaint is addressed quickly: our interventions are very efficient.
Our office receives numerous testimonials that attest to the importance of its role. Here is one example:
     "(translation) …, I wish to stress your professionalism and let you know that I greatly appreciated your help, for which I thank you sincerely. Your presence in Montréal (…) restores some balance, some might even say a certain education, to various decision-makers in terms of management and training of stakeholders within various City services." (D.L.)
As a matter of fact, the numbers speak for themselves: more than 95 per cent of the problems we identify are settled to our satisfaction, usually in cooperation with the relevant Manager.
There can be no doubt that the presence of the OdM bolsters Montréal's reputation as a city "that cares" about the betterment of the lives of its citizens! We unquestionably provide an added value to the City … as well as to you, the citizens.